The Ultimate Guide to Buying a Gun Safe
Gun owners, whether they have one gun or an entire collection, should always be prepared to safely store their weapons when not in use. Gun safes and gun cabinets are meant to protect guns by keeping them safely stored away, preventing theft and access by children or teens. Most safes are even fireproof, protecting your weapons from house fires.
Modern gun safes come in a variety of styles and sizes, and they even have a wide variety of unique features, such as a fingerprint activated locking mechanism. Read on as we explore the world of gun safes, discuss why you need one, and explore some of the top gun safes on the market.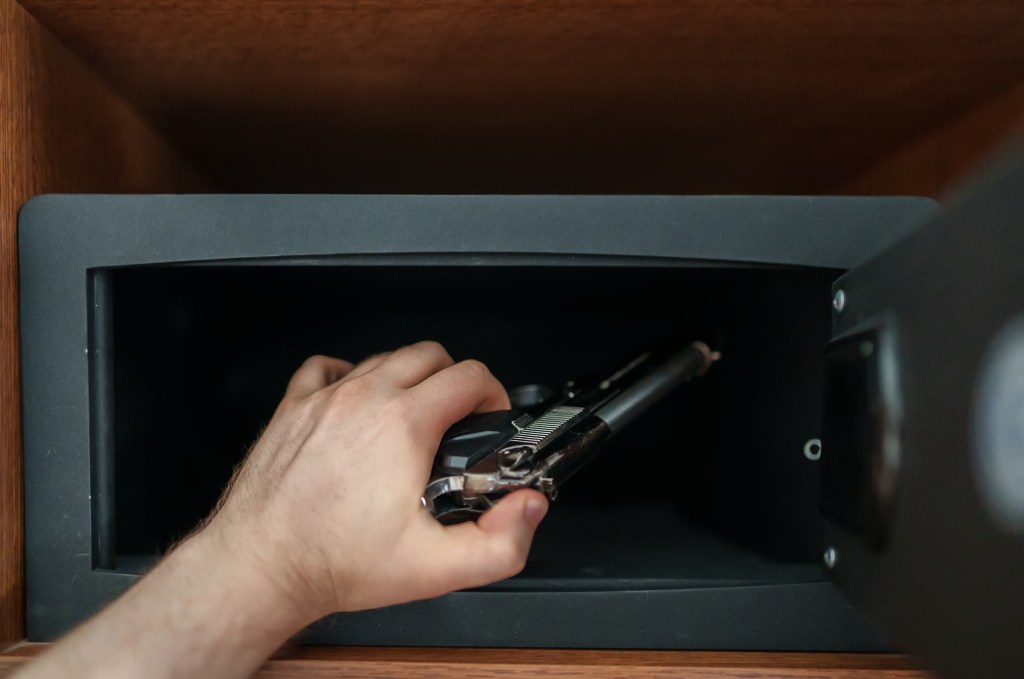 Understanding Gun Safes
What is a Gun Safe?
A gun safe is a secure place where firearms can be stored. Gun safes are typically made of steel and have a locking mechanism for security. They typically offer fire protection and other security features.
The Difference Between a Gun Safe and a Regular Safe
Gun safes have different features than regular safes, including adjustable shelves, interior lighting, protective liners, and barrel rests. A gun safe is typically stronger than a regular safe and will also be fire-rated.
Other Types of Gun Storage
There are also gun cabinets and pistol safes. A gun cabinet is not as thick as a gun safe and has no fire rating. It's more like a safe deposit box. A pistol safe is designed to store small guns, such as pistols. They have an assortment of locking systems, and they can be great for airline travel. In general, safes offer more protection than gun cabinets.
Recommended Features of Gun Safes
When investing in a gun safe, there are some key features you'll want to keep an eye out for. Here are a few considerations:
Consider size: Some of your guns might be rather large in size (such as a long-barreled gun). You'll want to keep this in mind when purchasing your safe. Make sure that the one you buy has enough room to fit all of your guns and the various sizes.
Consider weight: A heavier safe is more secure than a lightweight one. Most safe dealers feel that a safe around 750 pounds is a good blend of size and security. A 750-pound safe ensures that thieves won't be able to easily move the safe.
Consider shell strength: Opt for a strong and well-constructed safe to keep your valuables secure, even in the event of a house fire. A good safe is built with continuous welds rather than "stitch welds."
Consider wall thickness: A good safe is made of steel that can't be easily penetrated. While thieves can come in with heavy duty cutting tools, most of them are looking to get in and out fast, and thicker safe walls are a deterrent for burglars.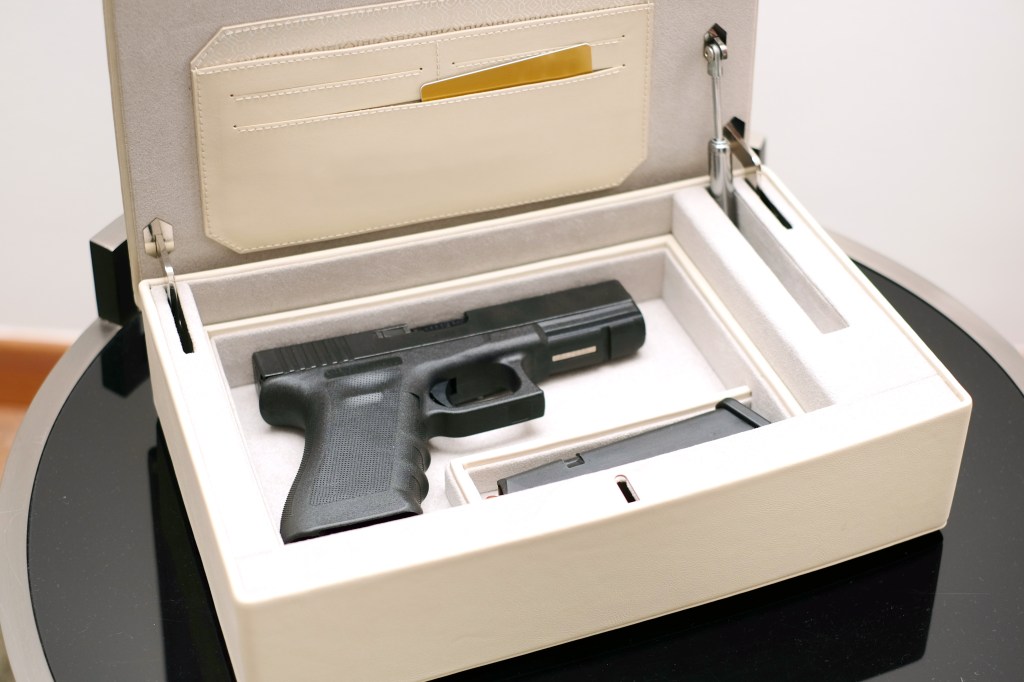 Top 16 Best Gun Safes To Consider Buying
Buying a gun safe? We've rounded up 16 top options so that you can weigh their features and determine which is the best safe for you.
Fort Knox FTK-PB
This safe is heavy at 20 pounds and it can be bolted in place. It uses a mechanical Simplex lock, which is quick and easy to use, even at night, making this a great safe to use for self-defense purposes. It's on the smaller side, and can hold 2-3 pistols, plus a few magazines.
GunVault SpeedVault
This is a great safe to store under a desk. You put in a code and your handgun drops down in an easy to grab fashion. However, this safe doesn't work with revolvers and has no extra space for magazines.
GunVaul NV300 NanoVault
This gun safe is perfect for use while traveling. It can fit a full-size Glock 17 as well as some spare mags. A downside is that the lock is slow.
Vaultek LifePod & LifePod 2.0
Another option for traveling, this gun safe has a very discreet design. You can fit smaller guns and some spare mags in this safe.
SentrySafe QAP1Be
This safe is highly-rated, and has three different ways that it can be opened. This includes buttons, a fingerprint scanner, and a backup key. It is ideal for holding smaller guns and a few mags.
Awesafe Gun Safe
This well-priced and sturdy safe is popular on Amazon. It can fit both full size and compact guns. It's very user-friendly. However, the biometric lock isn't very reliable.
Vaultek VT20i & VT10ki
This safe has multiple ways to open it, including keys, an electronic button, fingerprints, and Bluetooth phone app. It has room for larger pistols. The cons are that the biometric lock isn't totally reliable and it's got a high price tag.
Stack-On 8-Gun Cabinet
This simple safe has a key lock and is made form 18-gauge steel. It's a great starter safe option. However, the safe is on the smaller side, so you might not have room for everything you want to store.
Liberty ProVault or Centurion
This sturdy safe has plenty of room for rifles, pistols, and accessories. However, it's lightweight enough to be transported on a dolly, so you may want to bolt this one down.
SecureIt Agile Model 52
This model of gun safe is perfect for apartments and rentals. It's easy to set up and is a good value for the price. However, it requires assembly. It can hold about six long guns with scopes.
SecureIt Model 84-24/24
This locker style safe is heavy and sturdy. It can hold about 24 rifles. Keep in mind that the size might be too big for a small space.
Liberty Cabela's Outfitter
This is a great safe if you have a large gun collection, as it can hold 48 long guns. It's made of quality 11-gauge steel. It's sizable, so make sure you have enough space for this option.
American Security BF6032 18
This high-security safe has an excellent fire safety rating and has an attractive appearance. There are a lot of options for customization. However, this safe is a bit pricey.
Vaultek RS500i
This safe allows you to enter through a keypad, fingerprint scanner, or a backup key and it has Wi-Fi alerts available. You can fit about 3-4 rifles with optics.
Tactical Walls 1450 Sliding Mirror
This safe doesn't look like a safe, which is a great security feature. If you don't have room in your home to conceal a safe, this is a great option. However, this safe has limited storage space and is not ideal for larger collections.
V-Line Top Draw
This safe is an excellent option for the car. It features a Simplex lock.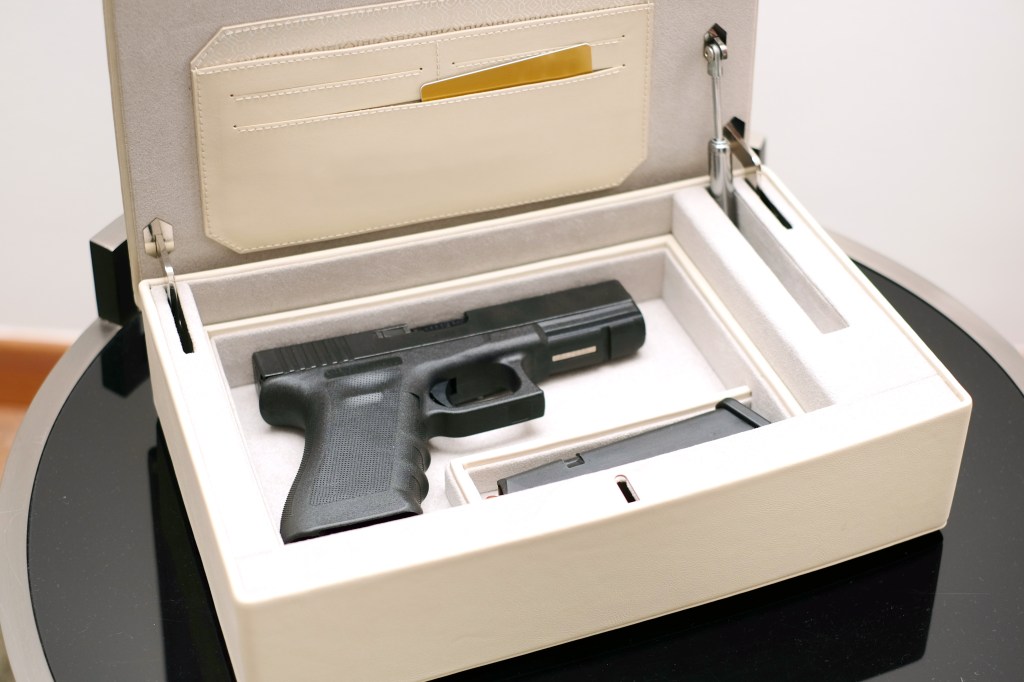 Types of Locking Mechanisms
Mechanical locks
Mechanical locks are the most reliable locks for a gun safe, and they are considered standard. They usually have a key lock in the dial, which can lock the dial and keep it from spinning. This type of lock can take some time and patience to open, which can actually be viewed as a good thing in terms of security.
Electronic locks
Electronic locks are very fast, and you can set your own combination. While previously considered unreliable, vast improvements have been made in recent years. Even if the memory of the battery fails, this lock will still remember the combination when you replace the battery.
Biometric locks
Biometric locks read your fingerprint. This is great for quick access and for security. They can be made to open for multiple users. Some of these even allow you to monitor who accesses the safe through a Wi-Fi connection.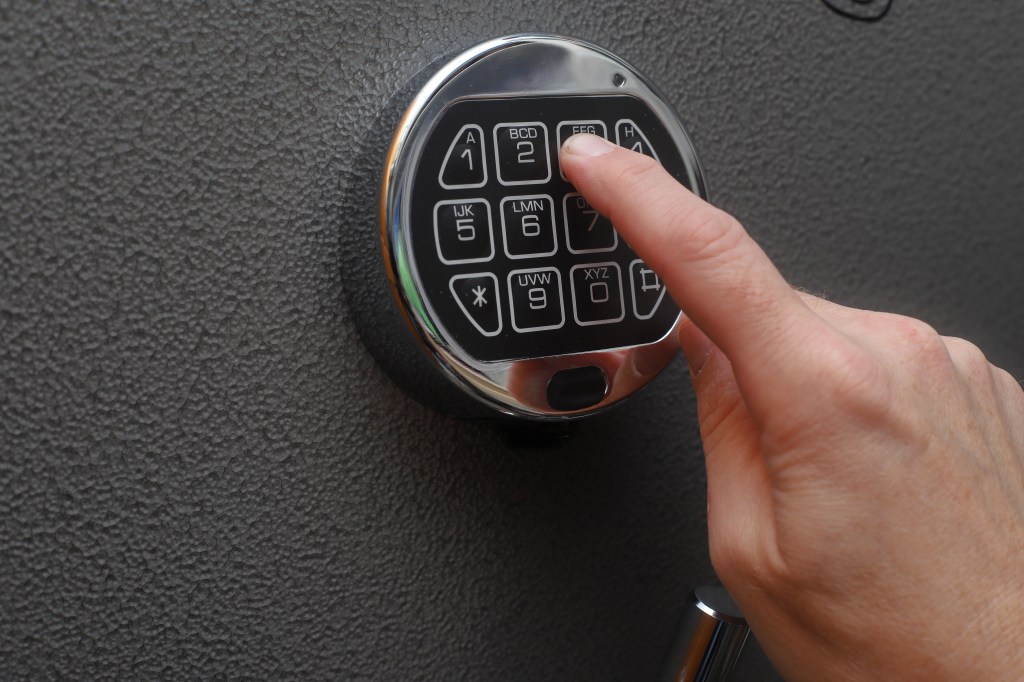 Fire Protection
Fire protection is a standard feature for a good gun safe. The industry standard for fire ratings is that they can withstand 1200 degrees F for 30 minutes total. This is because a house fire doesn't reach that high of a temperature, and the fire will move on quicker than 30 minutes. For larger buildings, one might consider a 1500-degree fire rating for an hour, to offer extra protection.
After a house fire, it's important to clean all of your guns inside and out before using as there could be some soiling from the fire and smoke.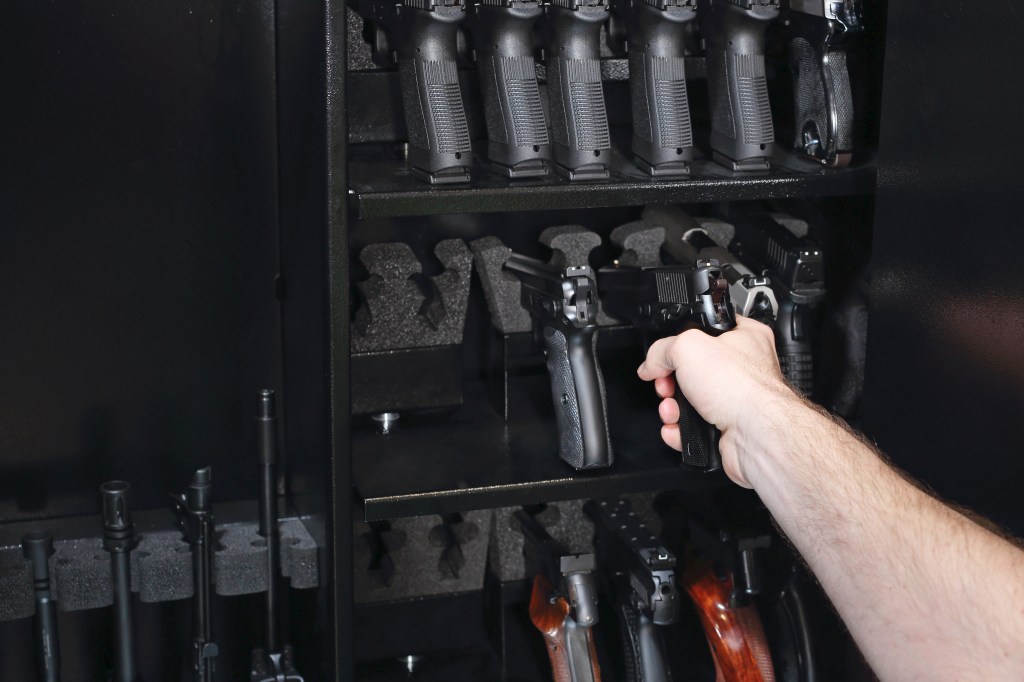 Burglary Protection
Smaller safes don't protect firearms from theft as well as large safes do. If you have a big collection or are looking for extra security, consider a heavier safe. You may also want to bolt your safe down for added protection. Also, keep in mind that there are certain features that make your safe easier to break into, such as external hinges.
Installation and Placement
Putting your gun safe in a prominent location, such as your living room, is a security hazard. It lets potential thieves know that you have valuables. Your gun safe should be in a safe and hidden location, and you should use the floor attachments that come with your gun safe to make it extra secure.
It's also best to store your gun safe on the ground floor, due to its hefty weight. While garages are a popular location for gun safes, they are often less secure than the main house, leaving them open to thieves.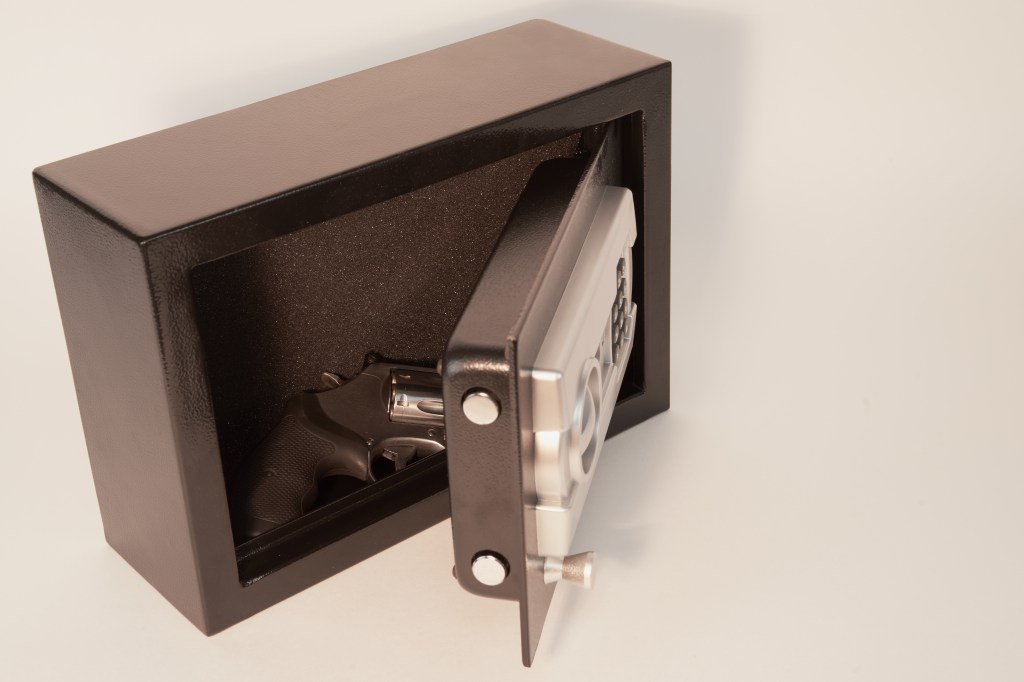 Customizing Your Gun Safe
A great accessory to add to your gun safe is a dehumidifier built specifically for the purpose of keeping your gun safe dry. Moisture is not good for guns. You can opt for an electric dehumidifier or – even better – you can opt for a Dry-Packs Silica Gel Canister to place in your safe.
Budgeting for a Gun Safe
If you are looking at potential gun safes or gun cabinets, you'll need to find a balance between the cost and buying a safe that has all of the features you need. A gun safe can be quite expensive, but they are often worth the investment. The cost of the gun safe will depend on its size, the features that are offered, and even the brand that produced the safe (reputable gun safe companies may charge more for a quality product).
Create a list of exactly what you need in a safe. Do you need ample storage for a large collection? Do you need a smaller safe that will fit in your apartment? Do you need something that opens quickly in case you are pulling your gun out in self-defense? Do your research and keep your list in mind as you search for a quality gun safe that meets all of your needs.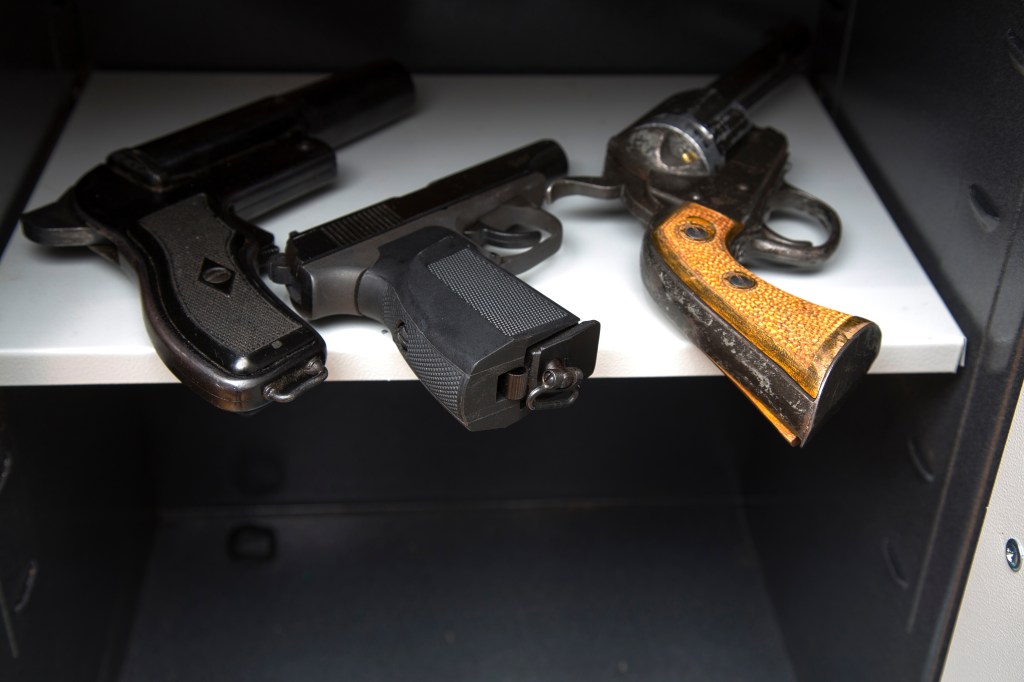 Top Three Gun Safe Brands and Models
When it comes to gun safes, it's a good rule of thumb to stick to popular brands that are well-known and trusted. Here are three top brands of gun safes, plus their key features.
Cannon Gun Safes
Cannon has been around since 1965. They feature longer bolts with anti-pry tabs that prevent the safe from being pried open. They also feature three layers of steel to protect the locking mechanism. They have excellent fire ratings, and their dual access lock has a manual back-up plan in case the electronic lock fails.
Liberty Gun Safes
Liberty safes feature locking bars rather than bolts. These bars are made of one solid piece of forged steel, preventing break-ins. They are built using roll-form technology, a process that allows a single piece of steel to form the top, bottom, and sides of the safe. They have an industry-leading fire rating and they come with a lifetime warranty.
Winchester Gun Safes
Winchester is a top firearms manufacturer that also produces quality gun safes. These fireproof safes have a drill-resistant exterior and re-locking capabilities that are activated if someone tries to break the lock. They are very heavy and hard to move, and they have adjustable shelves that help you organize your guns.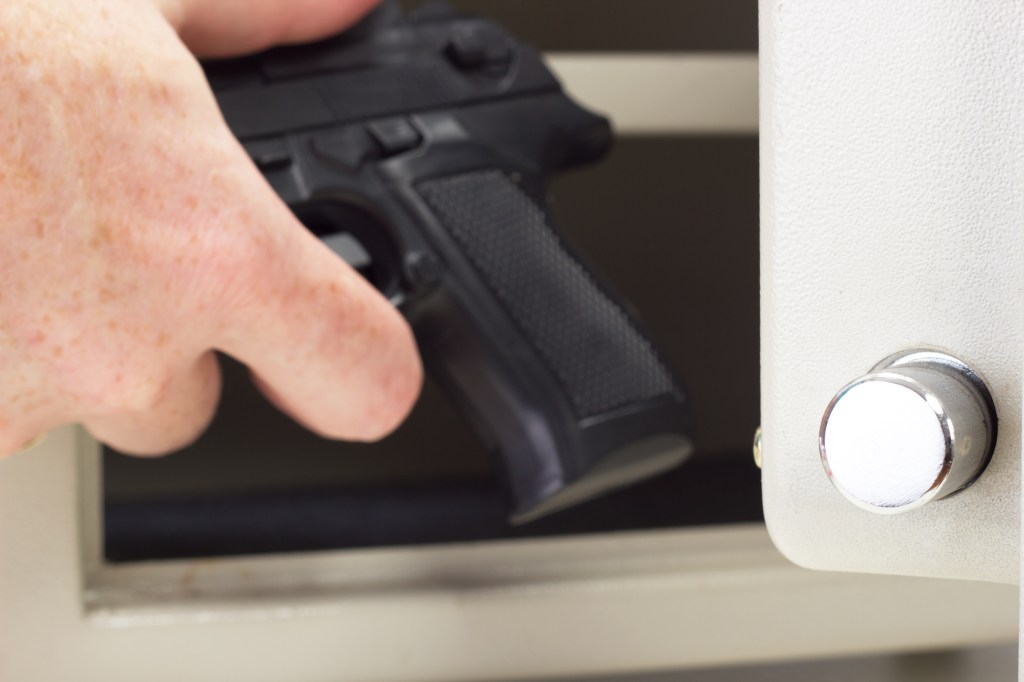 FAQs
What month is best to buy a gun safe?
A great time to purchase a gun safe is during Black Friday in November. There are great deals being offered on gun safes, and you might be able to secure one at a good price.
What do you need to know about gun safes?
It's important to know what security and fire protection features your safe has. It's also important to know their storage capacity and if it can accommodate the size of your collection.
Where should you put a safe in your house?
A gun safe should be kept out of sight if at all possible, as you don't want to advertise that you have guns or valuables stored in your home. You should also bolt the safe to the floor if possible for added security.
Are gun safes a good investment?
Yes, gun safes are a great investment. Not only do they protect your guns from unauthorized access by thieves or other family members, but they offer a degree of fire protection as well.
Are cheap gun safes worth it?
When it comes to gun safes, it's a good idea to do your research and invest in one that offers quality protection. Cheaper is not always better!
Sources
https://amanandhisgear.com/best-time-year-buy-gun-safe
https://www.pewpewtactical.com/best-gun-safes/
https://www.opticsplanet.com/howto/how-to-gun-safe-guide.html
https://gundigest.com/gear-ammo/accessories/complete-gun-safe-buying-guide
https://www.tractorsupply.com/tsc/cms/life-out-here/tool-shop/stock-your-shop/gun-safe-buying-guide